World Cat Cup
Action sports
Price: Free of charge
A sports action game. Score as many goals as you can.
---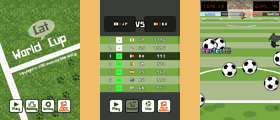 New
Compatible with Android 12 (Amazon)

How to play
Touch the coming balls.

Game Tips
World Cup for cats is finally here.

Take possession of the ball quickly and score as many goals as possible within the time limit.
Touch the center of the ball for an accurate shot, or you won't score. Target the balls with an accurate touch.

[ World Online Match ]
You can add your points to the score of your country by connecting to the network.
Fight together with people from your country and be the number one in the world.
* According to the point spread, the ratio of adding points may differ.

[ Bonus Time ]
If you score many "Perfect", "Great" or "Good" in a row, additional points will be added to your score.
When the count becomes a multiple of 10, you'll get bonus time.
A special ball will appear during the bonus time. Just touch on the ball to score a "Perfect" goal.

[ Ranking ]
You can register your score in the global ranking by tapping the "Personal Ranking Entry" button shown after the game.
When your score is sent, the game will display "OK".
* Make sure the "OK" message is shown, otherwise your score wouldn't be sent correctly.

Personal - Personal ranking
Global 1h - Global ranking (past 1 hour)
Global all - Global ranking (general)
World Cat Cup Download
---
BGM:World Cat Cup
---
- Other Games -
(C) 2006 DAN-BALL. All Rights Reserved.