Dot Sniper
Speed press action game
Price: Free of charge
You challenge the limits of your retina and ability to concentrate.
---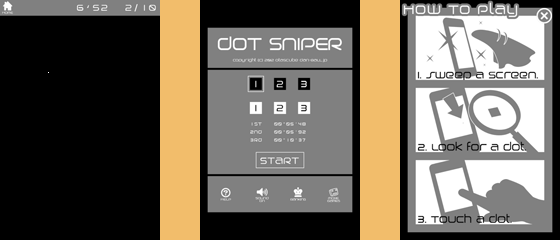 New
Compatible with Android 12 (Amazon)

Game Tips
This is a time attack game.
Compete with the time to touch the dot 10 times.

Touch the dot to find the only point of different colors in the screen.
Next dot will appear when you touch the correct location.

You can challenge the limits of the self and compete with friends and challenge the world ranking.
Dot Sniper Download
---
BGM:Dot Sniper
---
- Other Games -
(C) 2006 DAN-BALL. All Rights Reserved.