Lim Rocket
Avoidance action game
Price: Free of charge
Avoidance action game that manipulate rocket through outer space avoiding collision with the planet.
---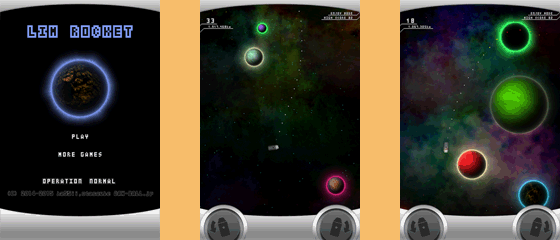 New
Compatible with Android 10 (Amazon)

How to play
Rocket has been pulled to gravity always (Universal gravitation)
Avoid collision with planet in a skillful attitude control.

The game over is when you lost to off-screen or crashing into planet.

You admire a beautiful universe sometimes also it is a good idea!
Compete a number passed through of planet.

Game Tips
[Controls]
Rotate to left :Touch the left buttons
Rotate to right:Touch the right buttons
Acceleration  :Touch the left & right buttons

OPERATION:Switch the direction of rotation of left and right
Lim Rocket Download
---
BGM:Lim Rocket
---
- Other Games -
(C) 2006 DAN-BALL. All Rights Reserved.