Rocats
Race game
Price: Free of charge
A racing game with comical cats on a rocket hitting a wall and aiming at the goal.
---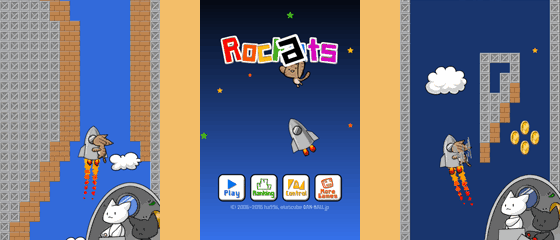 New
Compatible with Android 12 (Amazon)

How to play
Tilt your iPhone and control the rocket.

Game Tips
This game is a collaboration of DAN-BALL's free web game "Rockets" and the cats from the iPhone app "Cat Shot".

Quickly control the crazy rocket with cats by tilting your device.
Coins accelerate the rocket!
Race against time.

[ Gimmicks ]
Iron Wall: Unable to pass through it. The rocket slows down by crushing.
Block: Able to pass through it, but the rocket slows down.
Coin: Speed up

[ Ranking ]
Ranking registered after clear.
Name is registered in random character.
Can change name after update the self-recording.
Rocats Download
---
BGM:Rocats
---
- Other Games -
(C) 2006 DAN-BALL. All Rights Reserved.