Micro Panda
3D action game
Price: Free of charge
3D action game that brightens park with a beam emitted from eyes of panda within time.
---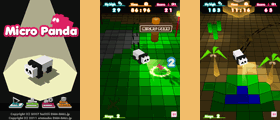 New
Compatible with Android 12 (Amazon)

How to play
The panda moves toward the touched direction.

Game Tips
The panda turns all the objects into a lamp with its eye beam.
You have 99 seconds!
Light as many objects as you can.

Total score is decided depending on the lighting object and the jumping height.

When you acquire constant Total score, the star is appended to the stage icon.
Please do your best to aim to get three stars.

Please Enjoy it!
Micro Panda Download
---
BGM:Micro Panda
---
- Other Games -
(C) 2006 DAN-BALL. All Rights Reserved.