Monster Box
Simple strategy game
Price: Free of charge
Overflowing Monster Corps VS Overwhelming Stickman Battle! Simple strategy game that enjoys battle.
---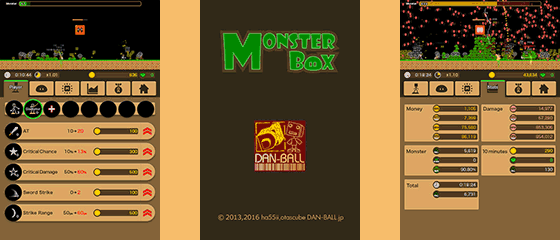 New
Compatible with Android 14 (Android)

How to play
Stickman after upgrade in gold and jewel, please earnestly defeat a lot of monsters.
By upgrade the monster, enjoy fight against powerful monsters.

Game Tips
Move :Flick the Stickman
Attack :Fully automatic
UP button:Touch or press and hold

Player does not die, it is invincible.
By increasing each skills, defeat more enemies.

Monsters will not attack. Is the weakest.
By increasing each skills, pop-up more enemies.

If you touch the box, "pop-up speed" goes up.
Keep in mind it will be game over monster exceeds a certain limit!

It is a game to collect achievements and more money.
Monster Box Download
---
- Other Games -
(C) 2006 DAN-BALL. All Rights Reserved.