Labyrinth of Red and Blue
puzzle game
Price: Free of charge
Open and close the door of the red and blue to help trapped heroine.
---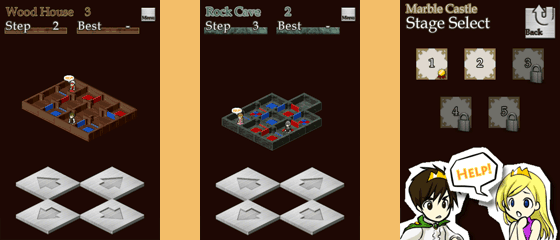 New
Compatible with Android 10 (Amazon)

How to play
Touch the arrow buttons.

Game Tips
Touch the arrow buttons to move the player.

Pressing the switch to open and close the doors of that color.
Go to the room where the heroine is captured, the game is clear.

Where there is a monster, you one step walk and walk even one step monster.
Monsters go straight. If he walks to the opposite wall there.
You can't enter a room with the monster.
The game is over the monsters come into your room folding.

When the minimum number of steps, will get a medal.

Please Enjoy it!
Labyrinth of Red and Blue Download
---
- Other Games -
(C) 2006 DAN-BALL. All Rights Reserved.