Cat Halloween
action game
Price: Free of charge
This is a Touch-Action game to give the candy kittens with Halloween costumes want.
---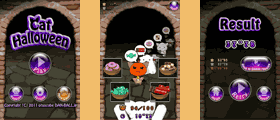 New
Compatible with Android 12 (Amazon)

How to play
Touch a button to the same candy they want.

Game Tips
Touch the button to give candy and sweets as they want.

If you want to give candy and sweets they want different, they are angry.
Then you can't be touched a button.

Time to compete for 100 people finished giving candy and sweets.

Please Enjoy it!

[ Ranking ]
Ranking registered after clear.
Name is registered in random character.
Can change name after update the self-recording.
Cat Halloween Download
---
BGM:Cat Halloween
---
- Other Games -
(C) 2006 DAN-BALL. All Rights Reserved.