Flip Ball
Action game
Price: Free of charge
Easy operation only of pulling a spring. Action game that competes without falling into a hole how many coins taken.
---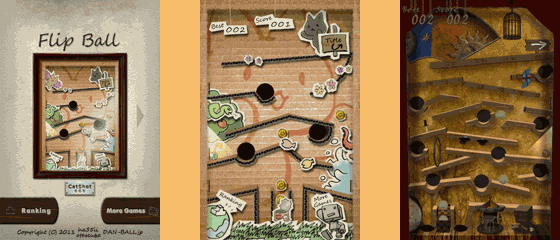 New
- Support for iPad.(iPhone)
How to play
touch -> drag -> release
The spring force to play ball, drag depends on the distance.
Game Tips
Cute cat stage made of paper,
Realistic pre-rendering 3DCG stage,
Please get a coin. Operating with realistic ball physics of motion.
Do not drop the ball in the hole. And please collect coins.
Arrive at the ball to the goal, restart from the top of the same course.
Compete for the number of coins collected.
Please Enjoy it!
Flip Ball Download
---
- Other Games -
(C) 2006 DAN-BALL. All Rights Reserved.